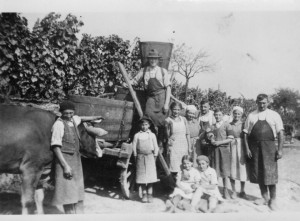 The passion of the work of the vineyard and the wine is transfered from generation to generation since 1765, when the first farm of mixed farming and breeding was created.
It is only in 1960 when the wine-making part of the exploitation became main activity of the family Rapp with the gradual cessation of the breeding in the 90s.
Year 2004 is a turning point in the exploitation with the moving from the historic cellar to the new enlarged cellar.
The family invites you to follow the evolution of its activity over time with some characteristic illustrations.
Above an photo of the grape harvest of 1945 with the grandparents and great-grandparents of Guillaume and Marilyne. The grapes were transported in wooden tanks on trailers pulled by horses.